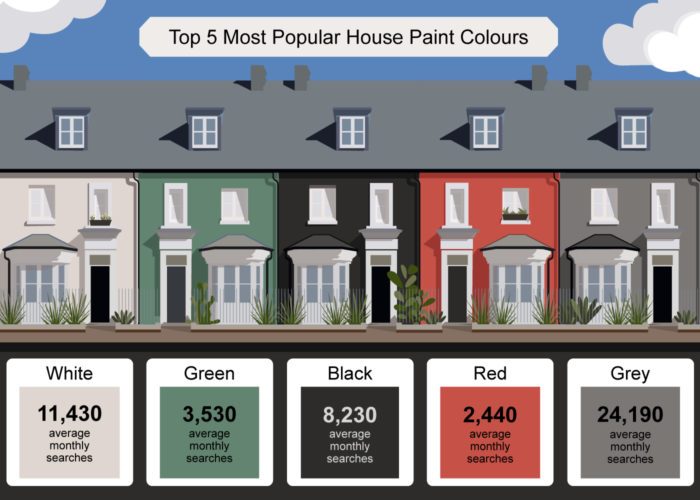 The famous streets of Notting Hill and Primrose Hill are synonymous with brightly coloured painted houses, as are many of our best-loved seaside towns. But in recent years we've seen a huge increase in the popularity of exterior house painting, with many more homeowners taking the plunge and painting their property.
Painting a house can do wonders for its kerb appeal, so it may come as no surprise that this simple trick can actually increase the value of a home. It can also make a house more likely to sell, as a well-maintained and attractive exterior never fails to draw the attention of prospective buyers.
There are certain exterior paint colours that are guaranteed to have a dramatic effect on the likelihood of a property selling quickly; these are the shades that have skyrocketed in popularity over recent months and years. If you're wondering which colour to paint to your house, you might want to start looking into the most coveted hues before you make any decisions.
We've crunched the numbers to find out which exterior house paint colours UK buyers prefer, and how the colour of a house plays a role in its likelihood of selling quickly. Here's what we found.
Which exterior house paint colours are most popular in the UK?
Grey – 24,190 monthly searches

White – 11,430 monthly searches

Black – 8,230 monthly searches

Green – 3,530 monthly searches

Red – 2,440 monthly searches

Cream – 1,810 monthly searches

Blue – 1,580 monthly searches

Brown – 800 monthly searches

Pink – 570 monthly searches

Yellow – 240 monthly searches

Orange – 110 monthly searches

Purple – 40 monthly searches
Start looking into the most popular exterior paint colours for homes in the UK and one shade immediately stands out. It is, of course, the ever popular grey.
The monthly search volume for grey masonry paint during the period we researched stood at a whopping 24,190 searches, a number which far exceeded any of the other colours users were searching for.
Topping the popularity charts for exterior house paint were grey shades of light, slate, dark, charcoal, Plymouth and gravel. This shows a natural evolution from last year's huge interest in grey decor for interiors, with paints like Zoffany's 'Paris Grey' and Farrow & Ball's 'Down Pipe' in high demand across the UK.
The runner up of white saw less than half of the searches that grey did, with 11,430 searches per month. In third place was black masonry paint, which attracted 8,230 monthly search queries over the period we analysed.
While neutral, understated colours like grey, white and black were by far the most popular searches, we also found a considerable number of people looking for more eye catching colours too.
Green masonry paint attracted 3,530 monthly searches during the period, and there were 2,440 monthly searches for red paint. We also saw a significant number of search queries for cream masonry paint (1,810), brown masonry paint (1,600) and blue masonry exterior house paint, which was searched for 1,580 times over the course of a month.
Start scrolling on Instagram and it won't be long before you see a stunning snap of a pastel pink home, but in the real world searches for controversial hues like this are nowhere near as popular as that of their neutral counterparts. Our research found just 570 monthly searches for pink exterior paint, 240 searches for yellow paint, 110 searches for orange paint, and only 40 monthly searches for purple masonry paint.
How should homeowners consider when choosing an exterior paint colour for their house?
Painting a house is a big decision, and there are a few things that homeowners need to think about before tackling an exterior painting project.
Firstly, it's vital that homeowners are aware of what they can and cannot do when it comes to painting their property. In some areas, there are rules on the specific paints and colours that can be used, in order to maintain the look of the street. There are also rules governing the painting of listed buildings, so permission may be needed if a home is listed.
Upkeep is another thing that should be considered before a house is painted. Depending on weather conditions, a home may need to be repainted regularly. This can be quite a job, and it might come with a high price tag. If lower quality paint is used, then repainting and touch-ups might be needed sooner.
Homeowners should think carefully about the colour of exterior house paint that they use. As we've seen, some shades are far more popular than others. Therefore, the colour choice can have a real effect on whether or not the property will sell easily if a homeowner later chooses to move. In some cases it'll also have quite an impact on the agreed price too.
If a property is listed or on designated land, there will be additional rules, so it is important to check with the local council. It's also essential to take into account the upkeep involved, as it will require repainting every five to ten years, depending on the material and climate.
Why are people drawn to certain shades? 
To find out why people are drawn more to certain colours than others, we worked with Environmental Psychologist Lee Chambers to find out what each house colour means and what we find appealing about each shade.
"The current colour of trend, grey presents a harmony between the sleek style of black, and the crisp clarity of white. Its modern feel brings an element of kerb appeal, taking off the subdued edge of black and mellowing the clinical aspect of white for a balanced, welcoming appearance and a feeling of security that is enticing in these uncertain times."
"The current colour of trend, grey presents a harmony between the sleek style of black, and the crisp clarity of white. Its modern feel brings an element of kerb appeal, taking off the subdued edge of black and mellowing the clinical aspect of white for a balanced, welcoming appearance and a feeling of security that is enticing in these uncertain times."
"Black has always been symbolic of sophistication and luxury, and this is no different when it comes to exterior colours. It promotes a feeling of assurance while conveying a sense of mystery and intrigue at the characters who reside there. The balance of formality with elegance makes it a popular choice."
"The colour of nature, and the colour we as humans can see the most shades of, the colour green is a popular choice outside of the neutral options. Its appeal is a feeling of grounded serenity amongst our busy lives, and an ambience of being connected to something bigger. With green being representative of growth and new beginnings, it's a great option for promoting positivity as soon as you enter your property."
"An energetic and passionate colour, red houses certainly are a statement. They often signify an element of power, mixed with an appreciation for tradition. Because red as a colour stimulates humans and draws their attention, it can generate desire from some people while overstimulating others, making it divisive. And it will likely picture the residents as being full of character and emotion."
"Cream combines aspects of both white and brown, and tones them both down significantly. As a colour, it portrays people who are dependable, flexible and able to navigate life's complexities. While not massively appealing, it will always be a preference for those who are conservative by nature and are less concerned about being adventurous in life."
"Brown is another natural colour that is very grounding. It has always stood as the colour of reliability and resilience, being friendly and welcoming at the expense of being exciting and attractive."
"Increasingly popular on our homes' interior, Blue isn't as well used on the outside. As a colour, it does exude a calm confidence and foster feelings of trust, but at the same time we can associate it with being cold and sombre, which makes it a little less welcoming."
"Adding white to the intensity of red, pink is a statement colour that suggests a level of playfulness, compassion and softness that can be appealing, while at the same time not giving the feeling of homeliness and maturity that comes with home ownership for some individuals."
"The colour of the eternal sun, yellow houses beam across a street and spread a little bit of happiness. This warmth and energy are really attractive to some, but it can feel like too much and can actually create feelings of instability to others."
"Orange is a courageous colour choice and really shows a sense of confidence and friendliness. Being such a bold, strong mix of two warm colours, it can be overpowering and cultivate agitation in some people."
"A colour that shouts of luxury, with feelings of nobility and importance. Only for the bold, it states big ambition and flamboyance, with a fair share of mystery and moodiness that certainly stands out wherever it is used."