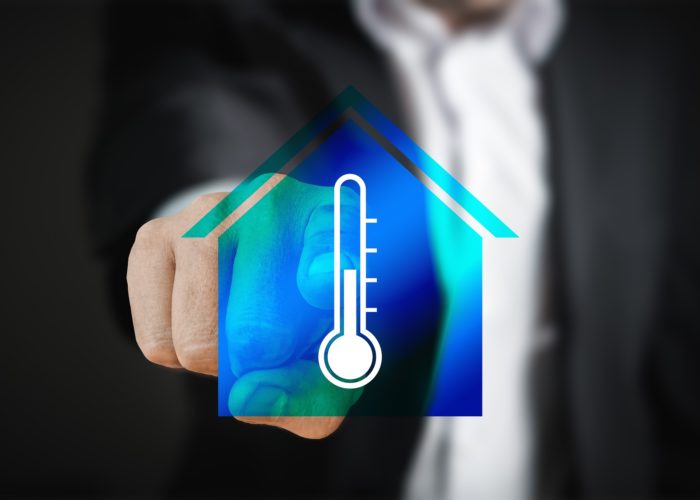 Wireless thermostats are becoming increasingly popular as more and more homeowners begin to recognise the brilliance of this relatively new technology. The digital devices can be installed in any setting, and will provide continuous monitoring of the temperature wherever they've been installed. One of the key benefits of wireless thermostats is the ease of installation. They're also incredibly accurate when it comes to temperature monitoring, enabling homeowners to keep every room of the house at the perfect temperature.
If you're interested in finding out more about wireless thermostats, or you'd like to learn how to install and connect your own wireless thermostat, take a look at our step by step guide. You might be surprised by how simple it is to connect your own wireless thermostat at home.
What is a wireless thermostat?
A wireless thermostat takes the idea of a traditional thermostat and gives it a digital makeover. Created using cutting edge temperature-control technology, wireless thermostats are uniquely able to sense the temperature of the air around them and send signals to control the heating system accordingly.
Whenever the temperature of the surrounding air drops below or rises above the ideal temperature, a wireless thermostat will spring into action and turn the heating on or off. The speed at which such signals are transmitted enables wireless thermostats to control the temperature of a home more accurately than traditional thermostats, with most wireless thermostats promising to keep the house within a degree of the desired temperature at all times.
The benefits of wireless thermostats
Wireless thermostats provide many benefits, so there are quite a few reasons why you might be thinking of installing one in your own home. Take a look at some of the top reasons to switch to a wireless thermostat to see whether a wireless option would work for you.
Energy efficiency
Wasted energy is a huge problem, particularly when it comes to heating our homes. Not only is it bad news for the environment, it can also be incredibly costly. Wireless thermostats help to eliminate such waste, by giving homeowners better control over their heating. Wireless thermostats monitor the temperature of the home more accurately, and can easily be adjusted to maximise the efficiency of the heating system.
Complete control from anywhere
A wireless thermostat makes controlling the heating system simple. And of course it can be done from anywhere. Thermostats can be monitored and controlled via digital devices, such as smartphones and tablets, meaning homeowners don't need to lift a finger to adjust their heating. Heating systems can even be controlled from outside the home, which is great for those bitterly cold winter evenings when you want to make sure your house is toasty and warm from the moment you get through the door.
Position your thermostat where you choose
Wireless thermostats can be installed anywhere you choose, so they can easily be placed in the coldest spot of a room to ensure that the entire room is adequately heated all year round. There are very few limitations as to where the devices can be positioned. It's worth noting that they don't necessarily have to be mounted in the same place as the old thermostat (although this does make installation simpler!)
Flexible heating for complete comfort
All heating systems can be adjusted as and when required, but this can be a hassle when dealing with older thermostats. Wireless thermostats are far easier to control, meaning homeowners are more likely to adjust their heating whenever they choose. A greater level of flexibility also allows for cost savings, as energy bills will be lower if the heating isn't being used when it's not required.
How to install a wireless thermostat: A step by step guide
Step 1: Remove existing thermostat
Before you install your new wireless thermostat, you'll want to remove any existing devices. This is a simple task which shouldn't take long to complete. All you need to do is disconnect the power to your old device, and then take the face off the device off the wall. Once you've pulled the face off you'll be able to see the wiring behind it. Take a look at this wiring to check it's in good condition before moving onto the next step.
Step 2: Remove your mounting plate
Behind your device you'll find a mounting place, which would have previously held the thermostat on the wall. These differ between devices, so it's best to remove this before installing your new wireless thermostat. Simply unscrew the mounting plate and it should come off the wall cleanly.
Step 3: Disconnect redundant wires
The wiring that had been used to power your old thermostat will now be visible. The next step is to disconnect these wires, taking care to check that you've recorded which wires are being used for which connections. Usually these will be clearly labelled, but if they're not it's just a case of taking a few notes so you know what each wire is for later.
Step 4: Connect your new wires
The wireless thermostat can now be connected to the wires that had powered your old thermostat. Unfortunately, even wireless thermostats need the power from these wires! Follow the instructions provided with your chosen device, making sure that the wires are connected in the same way as they had been on the old thermostat.
Step 5: Add your new mounting plate
Once the wires have been connected, you'll be able to fix your new mounting plate on the wall. The wireless thermostat can then be mounted on top of this plate, with all wires neatly hidden behind it.
Step 6: Try out your new wireless thermostat
Your new thermostat is now ready to use. Try out the remote control functions and make sure everything is working as it should, then you can start exploring all the options that your brand new digital thermostat provides.
—
A wireless thermostat is a great option for almost any home, so if you're thinking of making the switch to a brand new thermostat we'd highly recommend exploring a digital option. If you're confident in your DIY skills and willing to give it a go, you can certainly install and connect a wireless thermostat yourself. But if not, we're always on hand to help! Get in touch with our team for more information.