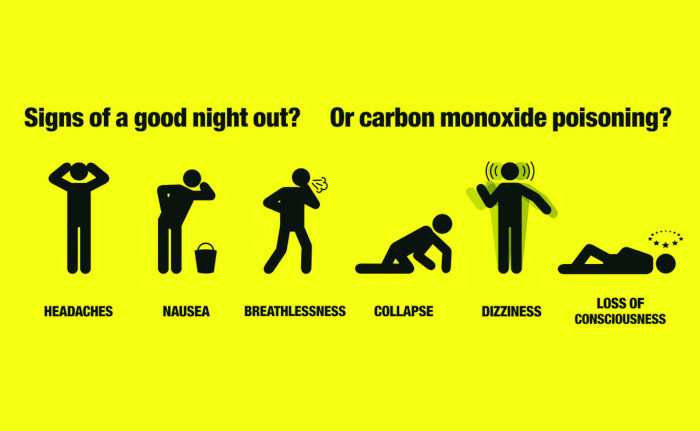 The Silent Killer
It's colourless and odourless. You can't see it or smell it giving its reputation 'The Silent Killer'.
It's responsible for at least 50 recorded deaths per year in the UK.
Carbon Monoxide is a by-product when Liquid Petroleum Gas fails to burn completely.
The common culprits are: old, faulty, badly fitted/ repaired, unsafe household gas appliances and blocked flues, chimneys and vents can produce Carbon Monoxide gas.
Exposure to this highly toxic poison can cause serious health issues and even death to any one exposed.
When you breathe in Carbon Monoxide it replaces Oxygen in your bloodstream. No Oxygen in your blood stream causes your body tissue and cells to die – the effects of which can be fatal.
The symptoms of Carbon Monoxide Poisoning
Sharing many of the same symptoms as the flu, Carbon Monoxide can often be overlooked until it's too late. Too much exposure can cause permanent damage to your brain and in some cases, can tragically lead to death. Here's what to look out for:
Nausea
Dizzy spells
Headaches
Breathlessness
Collapse
Loss of consciousness
What to do if you think you have Carbon Monoxide poisoning:
Get fresh air: open the doors and windows, turn off your gas appliances and leave your home immediately.
If you continue to feel unwell visit your GP or hospital immediately and inform them that you may have been exposed to carbon monoxide.
If you think there is an immediate danger, call the Gas Emergency Helpline on 0800 111 999.
The National Gas Emergency Helpline Engineers will NOT repair any faulty appliances. Atjustboilers.com we have a team of professional, full qualified, Gas Safe Register engineers who can carry this work out for you. Call us today on 0207 32 32 999 for immediate assistance or email us at [email protected]
Signs of Carbon Monoxide in your home:
Whilst you can't see it or smell it, there are a few signs of CO in your home:
Watch out for excessive condensation on the windows, or a musty smell in the air.
Flames of a lazy yellow or orange colour on your gas hob, rather than being a crisp blue;
Dark staining on/around appliances;
Pilot light that frequently blows out;
How to prevent Carbon Monoxide Poisoning:
Get your boiler and appliances checked and serviced annually by a Gas Safe Register engineer.
For around £15 you can get an audible CO alarm from a local DIY shop which will alert you to presence of Carbon Monoxide. Fix it to an open space (like your smoke alarm) ideally in a hallway and remember to check the batteries regularly. Make sure it is marked to EN 50291 and has the British Standards Kitemark or another European approval organisation's mark on it.
Stay safe:
Data compiled by the Gas Safe Register which inspects thousands of homes every year shows how many unsafe gas appliances there are in your area.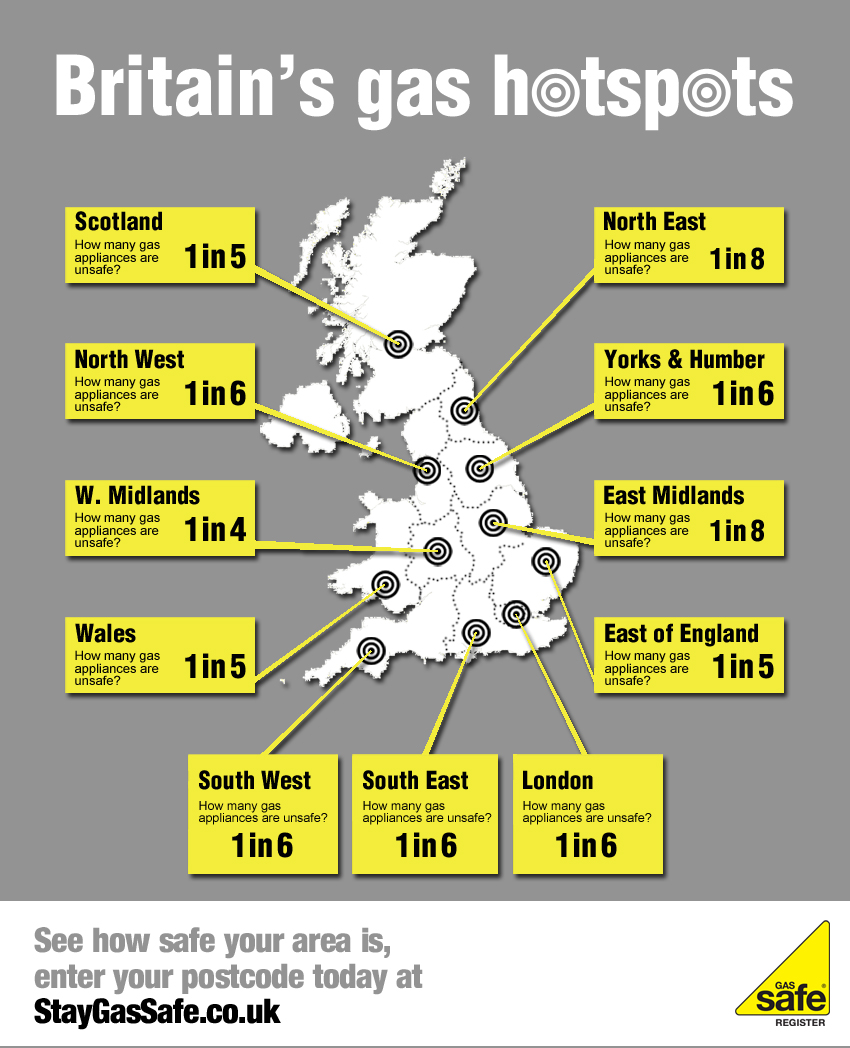 When did you last have your gas appliances checked? Book your service today with justboilers.com. Our Gas Safe Registered engineers are on hand to inspect and service your home appliances.
Call today on 0207 32 32 999.